Why Dark Horse Solutions? dark horse: a symbol of something ordinary that comes out a winner.
solutions: the process of solving a problem.

---
It's a digital world: if you have a business, you do need a positive web presence. With my design and marketing background, I can translate your business goals into an aesthetically pleasing, easy-to-navigate, and search-engine-friendly presence online without breaking the bank.
You CAN build a website yourself or find someone on almost every corner to build one for you.

Prices vary from "free" into the thousands of dollars.
Would your marketing dollars be better spent in other advertising activities rather than on the design, or re-design, of your website? In some instances, that may be the case. Your business is different from all others and so too are your needs.
I can develop a custom site that reflects your business and targets your ideal clients; it should have more effect on your bottom line than using a free website template or helpful family member.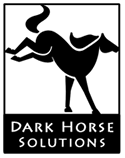 My name is Patty Armstrong. We live in the small town of Yamhill, in the shadow of the coast range, south of Portland Oregon.

"Dark Horse Solutions" was born from my desire to be a part of the local community in a creative capacity and to help other small business owners realize some of their goals. I was originally trained as a graphic designer and have been building websites for local small business owners since 2005.
---
Patty Armstrong | 503-662-4867 | 7000 Krono Rd. Yamhill, OR 97148 | email